Linda is bonded and insured with a yearly background check. She is a proud member of The Pet Professional Guild (PPG), the Association of Professional Dog Trainers (APDT), and other industry organizations that support their members and offer current science based education for continuing education credits.
---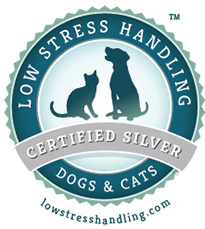 ---
Pet sitting services may be a business to some and a "gig" for others, but Linda considers pet sitting to be a business as well as an art form. Over the years she's finely crafted her pet care procedures by listening to the needs of the human requesting the service and to the animals she will be interacting with during her visits to your home. From the puppy or kitten season of life to the geriatric season, she wants to be a partner in your pet care. Her goal is to be sure that your pet feels comfortable at home by alleviating as much fear, anxiety, or stress that they may feel while you are away. As the Manager of a local pet sitting company she is a
Fear Free® Elite Certified
and
Low Stress Handling® Certified - Silver Professional
, is trained in
PetTech® CPR and First Aid
, and has dog training skills to keep your pet's safety and comfort in mind. Dog walking, another of the services she offers, has been especially important in helping leash-reactive or fear sensitive dogs gain a new sense of self-confidence in what to expect on a walk or pet care visit. It also helps them gain new social skills especially important for rescue dogs who may not have had these opportunities in the past. By building your dog's confidence it will help them learn to walk calmly and comfortably on a leash. This strengthens the human-animal bond between the pet and their human companion and makes daily walks less stressful. It's a win-win for all concerned! * * * *
Give her a call today at 678-253-PETS (7387) to find out how a Fear Free® Elite and Low Stress Handling® Certified-Silver Professional can help you with your personal pet care needs.
---
NOTE: Please be aware that we adhere to the Pet Professional Guild's Code of Ethics. Because of this, our company is unable to schedule services with you if we would need to use these types of tools in our training or pet care of your animals.
---
We are a member of Project Trade, the Pet Professional Guild's (PPG) international advocacy program that promotes the use of force-free pet equipment by asking pet guardians to swap choke, prong and shock collars (and any other devices that are designed to change behavior or care for pets through pain or fear) for discounts in our services.
---
SERVICES